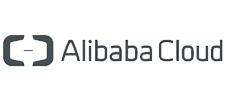 Alibaba Cloud
How does Alibaba cloud power platforms in Malaysia? Alibaba Cloud is a platform very much in a unique position. As a Chinese company it expanded early and continuously in other areas of Asia and the Middle East, regions notoriously underserved by other cloud platforms.
Extended by regions on Europe and North America Alibaba Cloud is a provider that truly provides extensive world wide coverage with a full fledge cloud stack.
Besides standard offerings in virtual servers and other IaaS products, multiple lines of managed databases, log services, email transmission, object storage and CDNs are available in several regions.
Alibaba Cloud also is the only operator having a dedicated location in Malaysia with their very first Kuala Lumpur data centre. Here customers can deploy locations with unparalleled performance for the domestic Malaysian market.
Advantages
Strong offers in mainland China, Asia and beyond
International approach and support
Full cloud stack available
Malaysia data centre
Disadvantages
Partially lacking service stability and documentation
Pricing above other established cloud platforms
alibabacloud
alibaba
cloud
china
stack
iaas
paas
saas