Marketing
Best practices: Email marketing in Malaysia
Master successful email campaigns with this set of rules!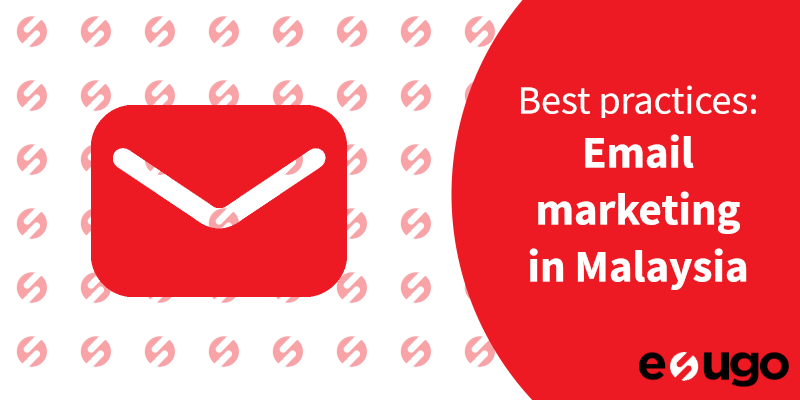 Email marketing and promotional campaigns are an integral part of many digital businesses. However to make them work well a series of well planned actions needs to be in place, from the moment when a user subscribes down to every single email they receive.
Why do we need email best practice?
Email marketing unfortunately is not anymore just about collecting addresses and blasting emails. With the issue of spam and more advanced technology there is a lot of compliance and other best practices to consider when running successful email promotions nowadays!
From getting a valid contact list, sending emails that will foster conversions to making sure that your contacts actually get your emails, these rules will help you getting started with professional email marketing!
Verify subscribers extensively
No matter where you collect email addresses, on the web, apps or even offline, make sure to verify and check the information when you still have the chance to ask your users for corrections.
Often users enter email addresses incorrectly by accident, with spelling errors (e.g. ".con" instead of ".com") or other errors like a missing '@'. Make sure your software or staff checks these emails and if verification fails allow the user to correct their address.
Ensuring that you only accept valid email addresses will help to reach every interested user and avoid missing out on sales due to mistakes that could have easily been fixed.
Implement double opt-in
Double opt-in, or as industry professional refer to it "DOI", means that when a user enters their information on your website or another channel (this being the first opt-in) you then send them an email with a link to confirm their subscription (the second opt-in).
This ensures not only that you have a valid email address, but also that you reach the right person and no one can subscribe other contacts without authorisation.
DOI therefore works both as a validation and as a protection to your sender reputation, as it prevents you from sending unwanted messages that could be perceived as spam!
Leverage professional delivery systems
Sending emails in todays world involves a lot of technology and computing on the senders and receivers side. While everyone theoretically can setup and operate their own email server, with the extensive validations and anti-spam techniques self-operated emails will often show low delivery rates.
There are multiple service providers that offer professional solutions for managed email systems and bulk email deliveries for small prices. These providers do the heavy lifting of ensuring compliance and following requirements to deliver emails reliable.
Groom your subscriber list
Even if you deploy subscriber validation and DOI you will still frequently see contacts becoming invalid or unreachable. This can happen for a multitude of reasons that often are not connected to you or your emails.
For example people switch jobs and email addresses, email servers become temporary or permanently unreachable, mailboxes are full and lots of other incidents that can occur.
If for any reason an email can not be delivered this will usually trigger an email bounce, a kind of notification about the failed delivery. You can read more about the types of email bounces here.
If a delivery fails it is important to take appropriate action quickly, as too many failed or repeatedly failed deliveries can affect your sender reputation and cause even more email bounces going forward.
If your delivery fails for a temporary reason on the recipient side it is a good idea to stop sending emails to that particular contact for a while and try to reach them again later. The interval can depend on the bounce reason and should be adjusted to your usual sending frequency.
For permanently failed deliveries, for example an invalid email address, the contact should immediately be removed from further sendings to avoid more bounces.
Many professional services for your email communication will do part of the list grooming for you or provide tools to set rules on how you want to have certain actions handled!
Use professional email designs
Once you took care of collecting valid and confirmed subscriptions and setting up an infrastructure to reach them with maintaining a good reputation for you as a sender, the focus should shift to the actual content of your mailings.
Users nowadays view their emails on multiple devices with different screen sizes and connections like desktops, computers, phones and tablets.
With HTML emails you can provide rich experiences and bring your message across with beautiful designs, but making your email look the same on all devices is a big challenge due to the multitude of screen sizes and email clients.
Here are some simple dos and don'ts to guide you into preparing your message in a suitable way that ensures conversions.
Dos
Use HTML emails to provide beautiful designed promotional emails
Leverage existing templates or frameworks that help structuring a HTML email for compatibility with most devices
Add a text only version for email clients that can not show HTML emails, ideally link a web version of your email content as fallback
Adapt your approach based on the audience you are talking to. No colloquial emojis in business pitches and no dry business talk for consumer products
Don'ts
Do not use only plain text emails, they are boring and fail to get peoples attention
Do not send emails that consist only of one image, images do not scale well on different screen sizes and take long too load depending on the users connection. No one will wait seconds on a blank email for your image to load
In conclusion you will find the right balance between a rich user experience, compatibility with most common devices and clients as well as accessibility in terms of loading speeds.
This is a short intro to the most important best practices of email marketing, however to consistently perform with promotional emails many more considerations are advisable. If you want to take your email marketing to the next level don't hesitate to get in touch with our experts by filling out the form below or email us to hello@esugo.my!
email
best practice
marketing
promotion
subscribers
Share this article